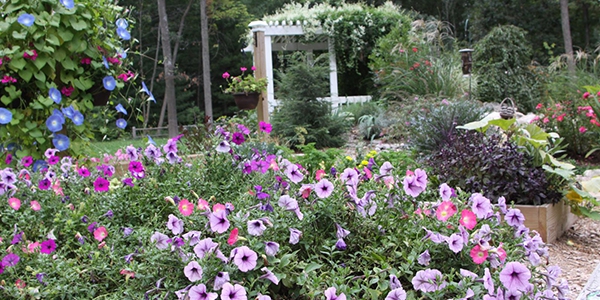 Looking back on the history of Connie's Café, 2009 was by far one of the most difficult years of Connie Stephan's life. Although her business was thriving, she received an extremely challenging health diagnoses. That year she was stricken with Central Nervous System Lymphoma and had to go through a very intense, twelve month chemotherapy regimen. As Connie recovered from this terrible disease, she found that gardening was a therapeutic way to deal with the emotionally draining side of this horrific disease.
When you look out into the rock garden of Connie's Café, you can see how the "Garden of Dreams" came to be. It was in 2011 that the garden was designed and founded. Connie's husband, Gary, and a new friend of ours, Master Gardener, Becky Bean, were instrumental in the execution of the garden. We are forever grateful to Becky and her husband Mike for their hard work, direction and leadership of this project as well to all of you that donated plants, time and items for the garden, we thank-you from our hearts.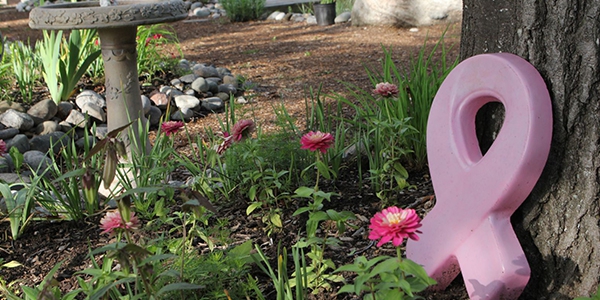 The "Garden of Dreams" project and Connie's improved health led her on another challenge ---- to help those affected by cancer like her and to raise money to find a cure. Since 2011, Connie's Café has been home to "Connie's Angels" Relay for Life team. This is a group of great people consisting of Connie's Café employees, family, friends, and some very loyal customers. We are proud to say that this group has twice been the top fund raising team in the Alpena County Relay for Life event and also has raised thousands of dollars for the "Friends Together" local cancer support group.
In September of 2013, a beautiful and unique sun-catcher was added to the garden. This unique art piece was an 18-month project that Tina of "My Glass Wings" and her team members, Chris Hatch and Mike Meyers, completed. Tina has inspired us with this project as she assembled the 1,200 pieces of glass to create this piece. The sun-catcher includes the words most often spoken by those affected by cancer. It is our hope this piece of art inspires all those who visit our garden and particularly those affected by cancer. We hope it helps them enjoy the peace and tranquility brought about by seeing the radiant sun stream through the stained glass and help all enjoy the beauty of our garden itself. Now --- to put the icing on a great big Connie's cinnamon roll, our founder, Connie is celebrating being 7 years cancer-free!